(Source: Dedebit media, DW International, 19 February 2021 (12 ለካቲት 2013)) –
The government of Tigray has laid out preconditions and a roadmap to a peaceful resolution to the war in Tigray (መርገፂ እማመ ሰላም መንግስቲ ትግራይ).
The people and government of Tigray fully understand that war brings human loss and social and economic crises. The price of war can't be measured in money or other material measures. On the contrary, we know that it is secured by paying priceless human life. That is why the people and government of Tigray have at all times held and continue to hold uncompromising stance regarding peace.
The people of Tigray undertook the election of its administrators, since the fascist clique of Abiy closed all avenues of peace, invited foreign invading forces and has continued to inflict injustice on us aiming to annihilate us as a people.
Therefore, the people and government of Tigray were forced to fight to protect, not only to our self- determination but our right to exist as the people. The struggle is continuing with an unshakable determination to secure the rights of the people of Tigray through the unfortunate sacrifice of blood and bone. As result, we are achieving a succession of victories. 
However, we would like to affirm, as the people and a government, that, even today, we are prepared to resolve the situation through peaceful means.
We are going to engage in peaceful negotiations if, and only if, the following preconditions are fully actualised. It's only then that we'll negotiate.
The immediate withdrawal of invading Eritrean (PFDJ) forces from Tigray and confirming their withdrawal by nonpartisan international organisations.
Respecting the territorial integrity and sovereignty of Tigray with an immediate withdrawal of all invading forces (Amhara and Eritrean Forces) from Northern, Southern, Western and Eastern Tigray.
Removing the "interim Administration" and reinstating the elected government.
Investigating the war crimes committed in Tigray by nonpartisan international organisations.
Unhindered access to humanitarian agencies throughout Tigray to provide aid to the 4.5 million people in need in Tigray. As well as, allow full access to media organisations, Journalists and human rights organisations.
Inventory and auditing, returning and compensating of the looted, destroyed and dysfunctional Tigrayans' wealth (private, government and public properties).

The politicians and other Tigrayans who are arrested as the consequence of the present situation should be released without any preconditions.

The peace negotiation has to be mediated by independent international body. 
The government of Tigray
12 ለካቲት 2013 ዓ/ም (February 19, 2021)
Tigray shall be victorious
---
መርገፂ እማመ ሰላም መንግስቲ ትግራይ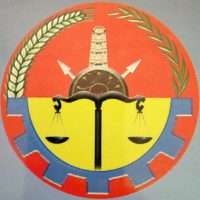 ህዝብን መንግስትን ትግራይ፡ ኲናት ዘስዕቦ ሰብኣዊ ኪሳራ፥ ዘብፅሖ ማሕበረ-ኢኰነሚያዊ ቅልዉላውን ብተግባር ይርድኦም እዩ። ዋጋ ሰላም ብገንዘብን ማተርያልን ዘይዕቀን፡ የግዳስ ክቡር ህይወት ወዲ ሰብ ከፊልካ ከም ዝረጋገፅ ዝንፈልጦ ግሁድ ሓቂ እዩ። ነዚ እዉን እዩ፡ ህዝብን መንግስትን ትግራይ ኣብ ዝዀነ እዋን ኣብ ጕዳይ ሰላም ዘየማትእ እምነትን መርገፅን ሒዞም ዝተቓለሱን ዝቃለሱ ዘለዉን።
ስለ ዝዀነ ድማ ህዝብን መንግስትን ትግራይ ነዚ ሎሚ ገጢሙና ዘሎ ወራር ብሰለማዊ መንገዲ ንምፍታሕ ኩልጊዜ ቅሩባትን ድልዋትን እዮም። ቀደሙ እዉን ናብ ኲናት ዘምረሐና፡ ተገዲድና ዝኣተዉና እምበር ኲናት ፈላማይ ኣማራፂና ኣይነበረን፥ ሎሚ እዉን ኣይዀንን። ህዝቢ ትግራይ መረፃ መመሓድርቱ ብምክያዱ፡ ፋሽሽታዊ ጕጅለ ኣብይ ኣሕመድ ኵሎም ናይ ሰላም መማረፂታት ዓፂዉ፡ ናይ ወፃኢ ወረርቲ ሓይልታት ዓዲሙ፡ ህዝቢ ከም ህዝቢ ከጥፍአና ኵሉ ዓይነት ግፍዕን በደልን ምፍፃሙ ስለ ዝቐፀለ ብደምናን ብዓፅምናን ህልዉናና ንምርግጋፅ፡ ፅኑዕ መርገፂ ሒዝና ንቃለስ ኣለና፥ ዘሕብን ተደራራቢ ዓወት እናሓፈስና እዉን ንርከብ።
ይዅን እምበር እቲ ኵነታት ብሰላማዊ መንገዲ ንክዛዘም ሎሚ እዉን ቅሩባት ምዃንና ከም ህዝብን ከም መንግስትን ክነረጋግፅ ንደልይ። ህዝብን መንግስትን ትግራይ ናብ ሰላማዊ ልዝብ ንኣትዉ ግን ቀፂሎም ዝተቐመጡ ቅድመ ኵነታት ሙሉእ ብሙሉእ እንተተማሊኦም ጥራሕ እዩ።
1. ባዕዳዊ ወራሪ ሰራዊት ህግደፍ ብዘይ ዉዓል-ሕደር ካብ መሬት ትግራይ ክወፅእ ኣለዎ። ብተግባር ምፍፃሙ ድማ ብዘይ ሻራዊ ዓለምለኸ ኣካል ክረጋገፅ እንተኽኢሉ ጥራሕ እዩ።
2. ሉኣላዊ መሬት ትግራይ ክሕሎን እቶም ሐዚ ብደቡብ፥ ብሰሜን ምዕራብ፥ ምዕራብን ምብራቕን ንመሬት ትግራይ ክቃራመቱ ዝዉዕሉ ዘለዉ ፀላእትና ካብቲ ቦታታት ለቒቆም፡ ሉኣላዊ መሬት ትግራይ ክሕሎ እንተኽኢሉ ጥራሕ እዩ።
3. እቲ ብሽም ግዝያዊ ምምሕዳር በቶም ፀላእቲ ዝጣየሽ ዘሎ ኣካል ክፈርስን ብህዝቢ ዝተመረፀ ምምሕዳር ትግራይ ናብ ቦትኡ ክምለስን እንተገይሩ ጥራሕ እዩ።
4. ኣብ ልዕሊ ህዝቢ ትግራይን ደቂ ትግራይን ንዝተፈፀሙ ዘርኢ ናይ ምጥፋእ፥ ናይ ኵናት ገበናት ዘፃርይ ዘይሻራዊ ዓለምለኻዊ ኣካል ተጣዪሹ ብነፃነት ንምፅራይ ዘኽእል ኵነታት ክመቻቸወሉን ስራሕ ክጅመርን እንተኽኢሉ ጥራሕ እዩ።
5. ብሰንኪ ወረርቲ ሓይልታት ዝተመዛበሉን ንዝኸፍአ ማሕበራዊ ቅልዉላዉ ዝተቓልዑን ልዕሊ 4.5 ሚልዮን ህዝቢ ትግራይ ህፁፅ ሰብኣዊ ሓገዝ ክበፅሖ ምግባር፥ ሰብኣዊ ሓገዝ ንምግባር ዝመፅኡ ዓለም ለኻዉያን ትካላት ዘይተገደበ ምንቅስቃስ ክገብሩ ምፍቃድን፡ መሬት ትግራይ ካብ ጫፍ ናብ ጫፍ ንጋዜጠኛታትን ዘይሻራዊ ናይ ሰብኣዊ መሰል ተሓለቕቲ ዓለም ለኸ ትካላትን ምንቅስቃስ ክፍቲ ክኸዉን።
6. ዝተወረረ ፡ ዝዓነወን ዝተበላሸወን ንብረት መንግስቲ፡ ሰብ ሃፍትን ህዝብን ዘይሻራዊ ዓለም-ለኻዊ መፃረዪ ትካል ተጣይሹ ስራሕ ክጅምር።
7. በዚ ኵነታት ዝተኣሰሩ ፓለቲከኛታትን ካልኦት ደቂ ትግራይን ብዘይ ቅድመ ኵነት ክፍትሑ
8. እዚ ልዝብ ሰላም ብዘይ ሻራዊ ዓለም-ለኻዊ ዝካየድ እንተዀይኑ ጥራሕ እዮም።
መንግስቲ ትግራይ
12 ለካቲት 2013 ዓ/ም
ትግራይ ትስዕር