(Source: Tghat, 24 February 2021) –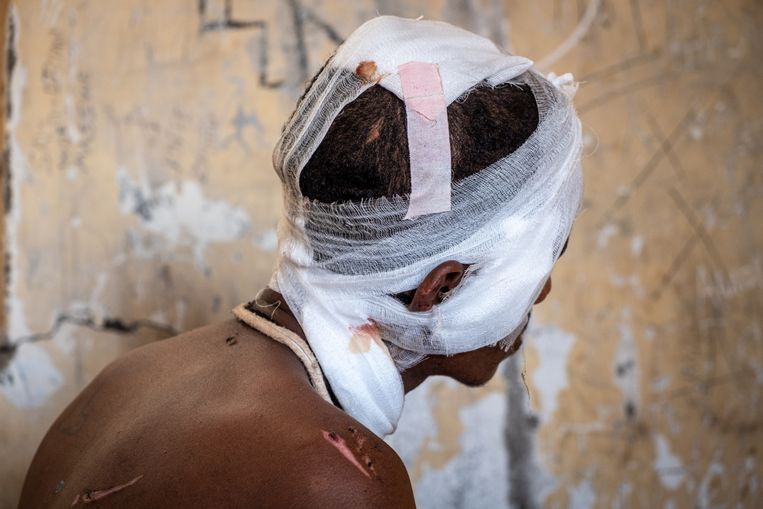 ---
Note: this is a translation of an account of Dutch aid workers that has been published at Trouw, a Dutch daily newspaper. The aid workers were recently in Tigray and tell what they saw.
---
It is still somewhat safe in the capital Mekele, says Hielke Zantema of the Dutch aid organization Zoa. He stayed in the capital of Tigray for a week in February. "I flew on Tigray. There were soldiers everywhere at the airport, even on the runway. They don't do anything, but they are there. On the way to the city you will pass checkpoints. As a Westerner you are immediately singled out and questioned about what you come to do here. They want to make sure that you are not a journalist, because they do not tolerate prying eyes", said the emergency coordinator.
His first impression on the street in Mekele: "Stress. If something small happens at all, panic immediately ensues. During that week I had to stay in my hotel room for two more days. Tigrayers are said to have erected barricades on the streets in the city. The military responded immediately. Everyone had to stay in. The roads were deserted and the shops closed. I heard that several people were shot."
Desperate
Karla Bil, medical director of MSF-Holland (Doctors without Borders), recognizes this tense situation. She was in the city of Shire in northern Tigray from mid-January to the first week of February. "There was no electricity in Shire. The banks were closed, so people had no money and could not buy food. The hospital was no longer functioning. Inhabitants of the city were desperate. Refugees from the west of Tigray were housed in three schools. They had left everything behind. Their only possession was the clothes they wore."
Bil had many conversations with refugees. "They were told: run or you will be killed. They were stories full of violence, destruction and rape. People have even lost their relatives." The refugees told Bil that if an army unit or a militia lost a battle, a revenge action ensued at the neighboring village. "People were then killed or slaughtered. According to Tigrayers there is a difference: killed is shot and slaughtered is done with a machete."
"And then there was the fear of mass rape. I helped two women who were raped", says Bil. She was in Shire to get the hospital, clinics and mobile medical posts up and running so that the sick and injured can be treated again.
The organization of Zantema (Zoa) has been operating in Tigray for some time. The aid organization was active in refugee camps. People sheltered here fled the regime in Eritrea, often to escape lifelong military service. The nearly 100,000 Eritrean refugees have once again fallen adrift with the arrival of the Eritrean army in Tigray.
"The camps are mostly empty. Some destroyed, such as Hitsats. One of our employees died there at the end of last year. I have been working from Mekele to get our staff from Shire to Mekele. That did not seem feasible, but eventually we succeeded. They have passed about fifteen checkpoints. But we cannot go to those refugee camps. Even visiting new camps is not possible. I wanted to take pictures of them and then show them to the world, but in the end that is too dangerous for the people there."
Karla Bil, who was longer in Tigray, has been outside the city, in the countryside. "After permission from the Ethiopian army, we investigated by car. Sometimes we were stopped by armed men and sent back. The situation was different for each area.
"A massacre had taken place in one village. When we got there the village was deserted, a ghost town. You could hear the wind whizzing through the streets. Doors rattle. The clinic had been robbed. Employees fled." After a short stay, Bil met some people. "They are traumatized, frightened, the fear is visible on their faces. Wounded people in the bush do not dare to be treated because they are afraid of being arrested.
"The village had been retaliated against by soldiers who lost battles in the area. In the end, some 70 villagers were murdered", she says. The name of the village? She has doubts, because she cannot estimate what the consequences will be for the remaining residents if she does give the name. So it remains quiet. A difficult decision, but unavoidable for now.
War crimes
It now seems that war crimes and crimes against humanity have been committed in Tigray. UN organizations have been warning this for some time. Bil from Doctors without Borders does not comment on this. "We are a medical organization, not Amnesty. Others have to determine how everything should be interpreted from their knowledge and experience. I do note that the people I met were severely traumatized. I also see many similarities with other war zones where I have been. The common man and woman, the doctor, the farmer, the teacher are always the victims. Here also. You can also see the total upheaval in Tigray. Families torn apart. It is similar to what I saw northern Nigeria after Boko Haram struck."
She does recognize the stories about the atrocities of the Eritrean troops. "They plundered hospitals. All things were then quickly brought across the border to Eritrea, even mattresses. No, they are not positive stories you heard about those Eritrean soldiers there."
Outside world
In any case, Bil has been able to make a start on reducing a basic form of medical care. Also in areas outside of Shire. The logistics have started somewhat again. "People keep telling me: the outside world needs to know what's going on here", says Bil at the end of the conversation.
Zantema has the same experience. "What stuck with me most from that week in Mekele is my experience at the airport when I returned. An employee asked me in a low voice, "Are you from an aid organization?" When I nodded, the person said, "You have to help us. You are our only hope". It was a cry for help that went through the bone."