(Source: BBC Horn of Africa, Bekele Atoma Boru) –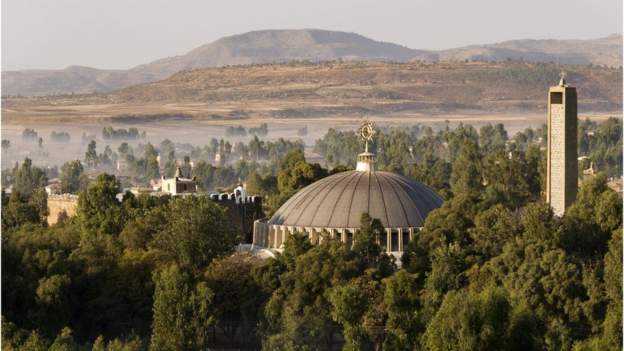 Aksum is an ancient city, considered sacred by Ethiopia's Orthodox Christians – Getty Images

The Ethiopian Human Rights Commission (EHRC) says Eritrean soldiers killed more than 100 civilians the city of Aksum in Tigray at the end of November.
Its investigation between 27 February and 5 March followed reports of a massacre over two days (28 and 29 November) in the ancient city, considered sacred by Ethiopia's Orthodox Christians.
An eyewitness had told the BBC how bodies remained unburied on the streets for days, with many being eaten by hyenas.
The state-linked commission said victims included residents of Aksum and pilgrims who went to mark the annual religious Aksum Tsion celebration.
One witness told the EHRC how Eritrean soldiers had gone into the house of a 70-year-old man "dragged him out of there along with his two sons… and took them to a nearby water tanker where they made them lie on the ground.
"The soldiers shot all three of them in the head and killed them."
Other residents interviewed said the victims "were killed in front of their children, spouses and mothers".
Eritrean and Ethiopian troops were also accused of looting and destroying properties, including religious institutions and health facilities.
"As these grave human rights violations may amount to crimes against humanity or war crimes, it underscores the need for a comprehensive investigation into overall human rights situation in Tigray region," the report said.
The EHRC, which tweeted a link to its report, also called for those who committed rights violations to be held accountable.
Eritrea has not yet reacted to the report. When Amnesty International's report about the mass killings came out on 26 February, Eritrea dismissed the accusations as "preposterous" and "fabricated".
The witnesses Amnesty interviewed provided the names of more than 200 people they knew who were killed – and some interviewees who had helped with burials believe the number of those who died could be as high as 800.
The EHRC's findings come a day after Ethiopia's Prime Minister Abiy Ahmed acknowledged that Eritrean troops had been in the Tigray region following the outbreak of conflict in November. He said any damage done by the Eritrean army was unacceptable.
For months both countries had denied that Eritrean troops had crossed the border.
Last week, the UN said it would work with the EHRC to investigate reports of the indiscriminate killing of civilians and widespread sexual abuse.
Human rights groups Amnesty and Human Rights Watch have separately reported mass killings in Tigray.